#databy­water ? #April­Fool­sJoke
Our great innovation, which is supposed to be able to transmit data via existing drinking water networks, is unfor­tu­nately just an April Fool's joke. Many thanks to all those involved and for the numerous reactions.
Our local supplier was partic­u­larly creative, directly sending an order for #DataBy­Water via the drinking water pipe system. Now our research & devel­opment department is racking its brains on how we can extract the order from the water in the glass and transfer it to our order processing.
Press release results of product launch:
Esders and Reinert-Ritz cooperate and launch a new technology — digital network expansion could be signif­i­cantly accelerated
31.3.21 Haselünne/Nordhorn – In a digital press conference, the companies Esders GmbH and Reinert-Ritz GmbH presented their cooper­ation project #DataBy­Water. A new technology was demon­strated in front of invited guests from the utilities and commu­ni­ca­tions indus­tries and the press, with which data can be trans­mitted via the existing water supply pipelines. The technology could give a whole new impetus to network expansion in Germany before the end of 2021, the companies involved predict.
Both Esders GmbH from Haselünne and Reinert-Ritz GmbH from Nordhorn have their headquarters in rural regions. "The problems in the expansion of the digital infra­structure are well known to us as manufac­turers and as customers from rural areas," says Martin Esders, Managing Director Sales and Marketing of Esders GmbH, "we have faced the challenge together and found a ground­breaking solution." In 2020, Germany again occupied one of the lowest places among indus­tri­alised nations in terms of fibre-optic expansion, with 4.7 percent. Comparing 2015 and 2020, little has changed compared to other indus­tri­alised countries. A meagre 3.4 percentage points have been added in fibre-optic expansion (source Statista/OECD). The greatest challenge in network expansion is that new data lines must also be laid in remote regions. In addition to high investment costs, digital network expansion currently ties up high capac­ities in pipeline construction. "If we can manage to use the existing drinking water pipelines as data lines as well, then the digital network expansion would become much cheaper and faster," Malte Ritz, Managing Director of Reinert-Ritz GmbH from Nordhorn, describes the common initial idea. Different concepts were discussed and tried out over several months. According to Bernhard Esders, Managing Director Devel­opment at Esders, the idea was as simple as it was logical: "Only that it could work, I could not believe at first," says Bernhard Esders, "only with the first success­fully trans­mitted data did I also believe in the idea".
The memory effect of water, known from homeopathy, is the inspi­ration for the #DataBy­Water project. The companies have managed to insert data into the drinking water of a PE pipe and read it out again at a remote location. "Initially, we were only able to realise a few baud, which would have been phenomenal in the 80s, but far too little today", but in a few months the technology could be improved to the extent that trans­mission rates of 100 Mbit/s were realisable in plastic pipelines, Bernhard Esders reported. A major challenge remains, because only the upstream, i.e. the data to the household or commercial enter­prise, can be realised techni­cally. "In the downstream, the existing telecom­mu­ni­cation channels must currently still be used," said Malte Ritz, "In field studies, the concept has never­theless triggered a very good response from the end customer." Not only the trans­mission rate, but also the fast and minimally invasive connection enthused the partic­i­pants in the field study.
Products from Esders and Reinert-Ritz for #DataBy­Water data trans­mission will yet be launched in 2021.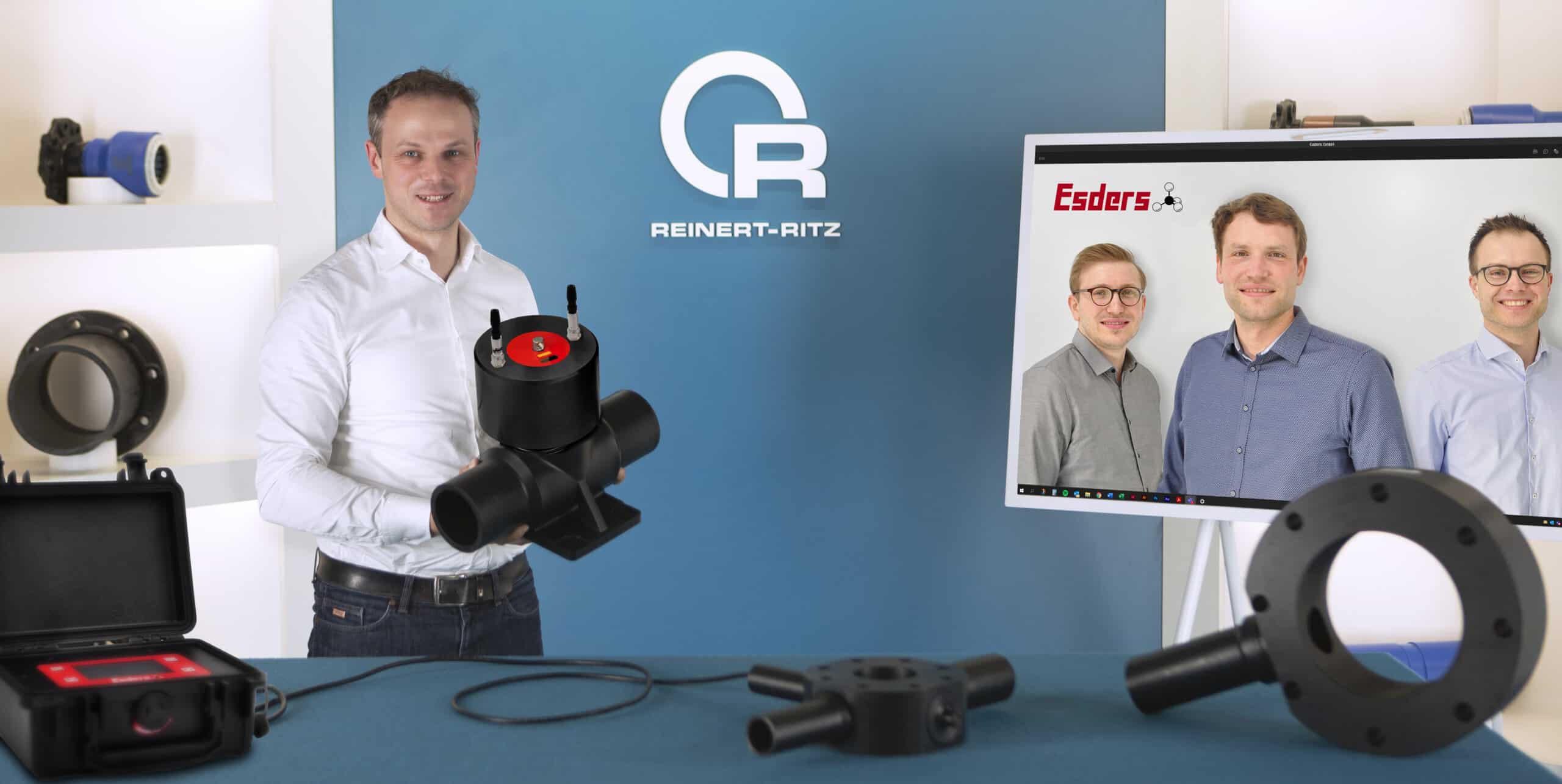 31.3.21 Haselünne/Nordhorn | Digital press conference
Malte Ritz and Stefan Esders, Bernhard Esders, Martin Esders (Esders GmbH)
presented their cooper­ation project #DataBy­Water